Still Life (Duvet Project) - 2006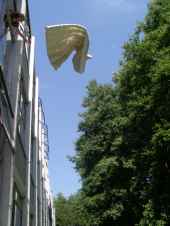 Flying Duvet
(click for large image)
I enjoyed working with the lightweight beach goods. I wanted to continue working with a material that could be thrown around, maybe something floppy.
Still thinking about stone circles I used the duvets to see what effect a duvet circle would have in the landscape. Not very practical for an open air art work. I also decided to make a cosy place to pray, or play. I constructed duvet tents, which could be seen in two, or more, ways, safe, hidden, and concealed, or suffocating and oppressive. They also had a sensual feel about them.
Still Life
(click for large image)
With some of these feeling in mind, I put together the "Still Life" installation, using a set of bunk beds. Eighteen months before starting on this work, my daughter had a massive brain haemorrhage and nearly died. I spent eight long weeks willing her to recover. Returning from hospital late at night, falling into the lower deck of my grandson's bunk bed. It was like sleeping in a packing crate. I slept the sleep of the exhausted. In the morning I woke to the nightmare, that was the reality of the day. The duvets in this piece give the feeling of oppression. The weight of a lifetime, bearing down on this small, enclosed space, relating very much, to my feelings of that dreadful time.
I manipulated the duvets in many ways, including just a pile of duvets, layered, and raised about four inches from the ground. I experimented with flying duvets, with some unusual results. I photographed slept on duvets, where indents had been left. I also tried to capture these marks, by covering them in plaster. There were fun elements in this project as well as the more serious ones.
Still Life was on exhibition in the Rope Store, Quay Arts, in January – February, 2008.
Artists who influenced this work, were, Ron Mueck, Tracy Emin, Mary Kelly, Doris Salcedo, Joseph Beuys, Luciano Fabro, Rachel Whiteread, and most of all Carl Andre.
Page last updated: 12th August 2012